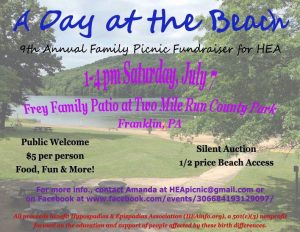 The 9th annual picnic fundraiser for HEA will be held at 1 p.m. Saturday, July 7, 2018 at the Frey Family Patio at Two Mile Run County Park (overlooking the beach) near Franklin, PA. The picnic is open to the public and costs $5 per person. What do you get for that $5? All the food you can eat; all the drinks you can drink (non-alcoholic); half-price beach access and a silent auction!  Click here for details.
Contact Amanda
The annual Walk with HEA will begin at 10 a.m. Sunday, July 8, 2018 at the Samuel Justus Recreation Trail in Oil City, PA. The 10-mile trek will follow the trail along the Allegheny River to the town of Franklin and back. Walkers are invited to join the event organizers for refreshments afterwards. Participants will meet at the parking lot of the Derrick and The News-Herald, 1510 W First St, Oil City, PA, prior to the start time.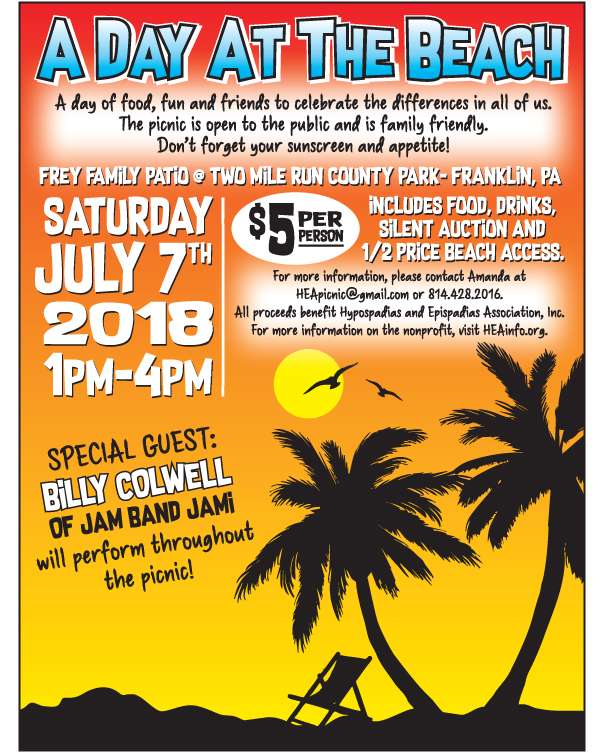 If you can't attend this amazing weekend, please support our efforts as all proceeds benefit HEA.